---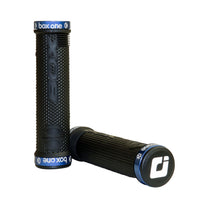 Manufactured in the US by ODI, Box One™ grips feature a hexagonal textured pattern over more than 85 percent of the grip to ensure proper traction and comfort. Comfort ribs support and cushion the rider's thumbs, while material has been removed from non-contact areas to save weight. Box One™ Grips are available in black and include four standard, ODI Lock-On grip clamps with laser-etched Box logos and two Snap Cap™ end plugs. Of course Box One™ Grips work seamlessly with Genius Brake Levers and the new Genius Grip Clamp, which are available separately.
• Proprietary high-performance grip design.
• Extremely tacky grip surface.
• Includes four laser-etched grip clamps & two snap caps.
• 130mm wide x 29.5mm OD.
• Designed & made in USA.
• Compatible w8th ODI lock jaw clamps.
www.boxcomponents.com