---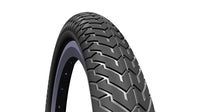 Zirra R is designed for rear wheel assemblies. A smooth and fine tread designates it for use on solid surfaces (wood, concrete) and ensures reliable contact with the underlay.
Zirra R
Designed for use on solid surfaces
Tire for rear wheel
Technical data 
ETRTO 54-406
Alternative Size 20 x 2.10
Construction Tread CLASSIC
Compound BC
Technology
Weight (g) 700
Sidewall Black
Category BMX
Mitas has a broad product range. An interactive search will help you to choose the right Mitas tire or tube. If you prefer a classic catalogue, you can download it in several languages. Information about what to expect from Mitas tires and tubes and the various blends and technologies such as TEXTRA, Weltex, Tubeless Supra, APS, Stop Thorn, Stop Thorn Ultimate, E-Protec, Clever Face or Slug Self Sealant can be found in the Technology / Safety section.